Thunderstruck Wild Lightning
With a thundering roar, Microgaming and Stormcraft Studios take us on a godly adventure with the God of Thunder Thor yet again in Thunderstruck Wild Lightning.
Thunderstruck Wild Lightning follows on from it's predecessors Thunderstruck and Thunderstruck II remastered, and you can certainly see straight off the bat how significantly the visuals have improved. The original Thunderstruck came many moons ago in 2003, and the remastered version certainly captivated players when it released in 2020 with The Great Hall of Spins and Wild Reels.
Norse Mythology has long since been a very popular focal point for developers everywhere. The gripping tales of Valkyrie, Loki, Odin and Thor are legend and as such, their popularity never dies.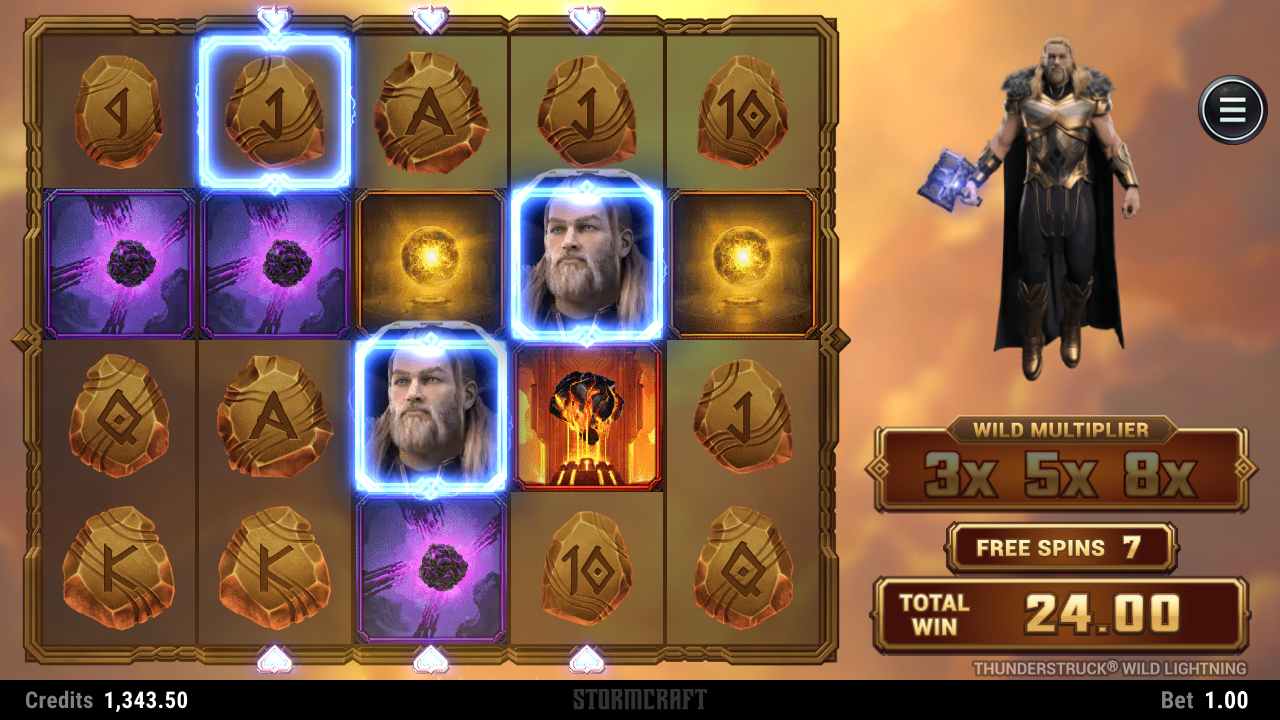 Thunderstruck Wild Lightning Concept
The story behind this one was thought about very meticulously to create an immersive and memorable gaming experience.
When Ragnarok came upon the world a fierce batte ensued, and the world tree was set aflame. Odin, father of Thor, sacrificed his worldly existence to extinguish the flame, and now it's all down to Thor to connect the world stones back to the tree by travelling to different realms to save the multi-verse.
This kind of dedication to the story proves already how exceptionally dedicated Stormcraft Gaming are to this slot, and it's evident that the Thunderstruck series has gotten much bigger and much better already.
Thunderstruck Wild Lightning aims to be bigger and better than ever before with Link & Win, Wildstorm and Jackpots, but can it be as good as Thunderstruck II?
In this Thunderstruck Wild Lightning Review, we'll be seeing if we're worthy of the mighty Mjölnir as we explore the gameplay, features statistics and potential.
Thunderstruck Wild Lightning: Betting and Symbols
The betting options available in Thunderstruck Wild Lightning range from £/€0.20 per spin to £/€16 per spin.  There's plenty of options in between the two, so players should feel like there is more than enough option for them to choose from.
Higher paying symbols in the game range from various stones that represent the realms they come from, and you'll also see low paying symbols Ace, King, Queen, Jack and 10 displayed in a runic style.
Features
| | |
| --- | --- |
| Bonus Game | Yes |
| Free Spins | Yes |
| Autoplay | Yes |
| Multipliers | Yes |
| | |
| --- | --- |
| Wilds | Yes |
| Jackpots | Yes |
| Megaways | No |
| Bonus Buy | No |
Thunderstruck Wild Lightning Slot Theme
The overall design of Thunderstruck Wild Lightning gives the player an immersive and ever-changing experience as Thor jumps between the worlds of Jotunheim, Vanaheim, Alfheim, Nidavellir and Svartalfheim. You'll see many different locations as you traverse through the world of Thunderstruck Wild Lightning, whether it be fierce blizzards, blood red skies or unrelenting storms.
The design quality for this slot really is vastly superior to those that came before it, and the changing locations really keeps the player involved throughout.
In another successful attempt to create a gripping experience, Stormcraft studios have given the players to choose their soundtrack for this title with an option at the bottom of the screen that allows you select 5 different tunes. You can choose either The Beginning, Destiny, Destiny Score, Heroes of the Storm and Heroes of the Storm Score to make your experience yours with an ambient or high action soundtrack.
So far, Thunderstruck Wild Lightning is both sounding good and looking good, but how does it play?
Thunderstruck Wild Lightning: The Base Game and Features
Thunderstruck Wild Lightning is a 5 reel slot with 40 fixed paylines. To form a win, you'll need to connect at least 3 symbols from left to right, starting from the left-most reel.
The rewards for connecting some of the higher paying symbols all the way across a line is very attractive indeed. The red Nidavellir symbol will pay 25x for a full line, and Wilds can even multiply wins by 2x or 5x in the Base Game. Wilds will substitute for all symbols except for Scatters and Thunderball symbols.
The Thunderball Symbols will appear on all reels in the Base Game. These symbols award cash values or Jackpot prizes during the Link&Win Feature.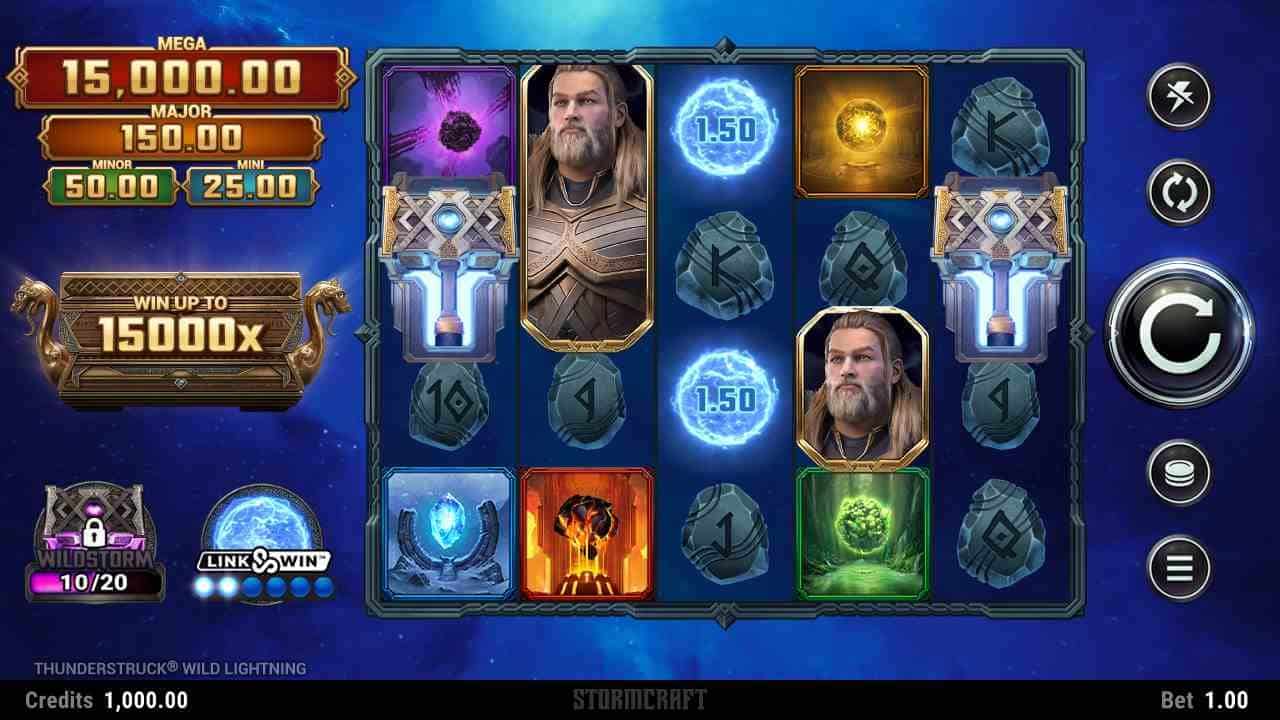 Link&Win Feature
6 or more Thunderball symbols trigger the Link&Win Feature. Additional rows are unlocked by landing Thunderball Symbols
15 Symbols – Unlocks Row 5
20 Symbols – Unlocks Row 6
25 Symbols – Unlocks Row 7
30 Symbols – Unlocks Row 8 
The Thunderball symbols that triggered the feature are held in place during the feature. Each new Thunderball symbol is also held in place.
3 Spins are awarded in this mode. If additional symbols land, then the number of spins will be reset to 3. If you go 3 spins without a new symbol then the feature will conclude. This Feature may only be triggered during the Base Game
Unlocking more rows gives you a greater chance of winning more prizes, and you'll also get the chance to trigger one of the very attractive Jackpot prizes here too.
Mega Jackpot: 15,000x 
Major Jackpot: 150x 
Minor: 50x 
Mini: 25x
Triggering the Mega Jackpot would make you feel as mighty as Thor himself, and to make you feel even more powerful comes the tiered Free Spins system which takes you to another realm.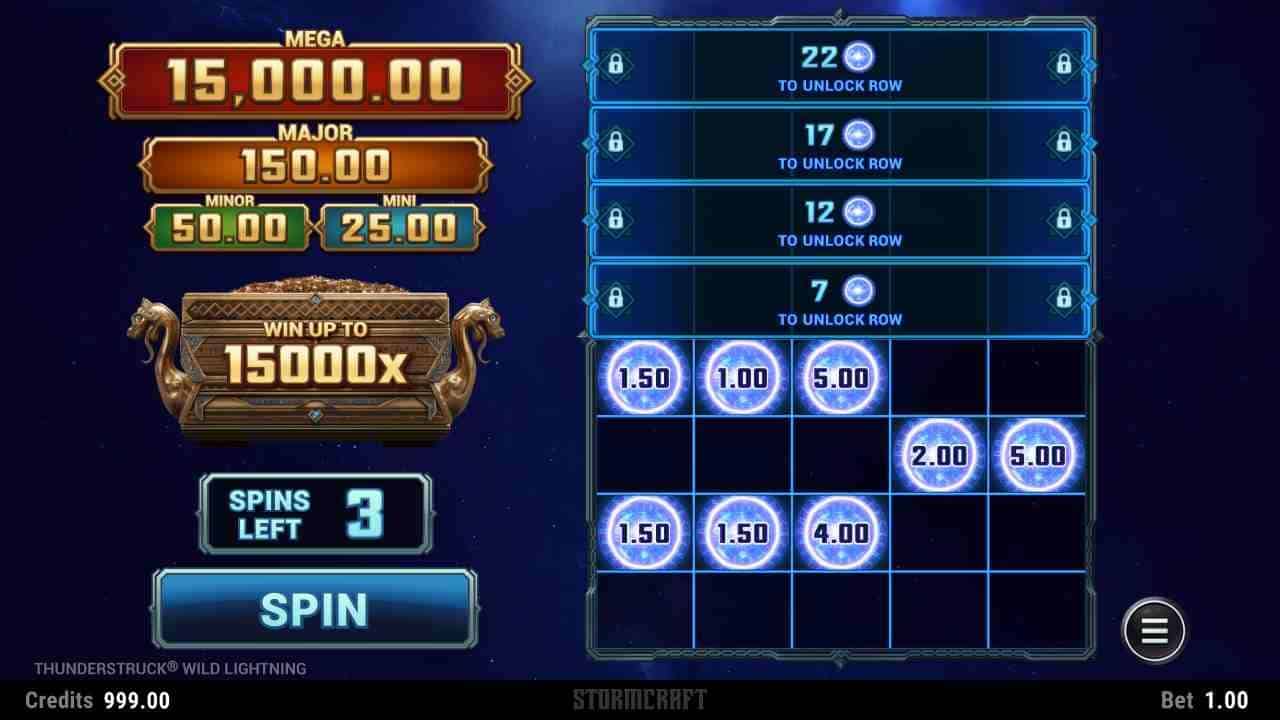 Thunderstruck Wild Lightning: Free Spins
Scatter Symbols in Thunderstruck Wild Lightning are represented by the Thor's hammer Mjölnir. Scatter Symbols pay, so you'll be awarded a multiplier of your total bet depending on how many you land.
5 Scatters – 200x
4 Scatters – 20x
3 Scatters – 3x
Stormcraft Studios have done something interesting with the Free Spins round in this one. Different realms are available, and each holds more potential than the last.
Each of the Free Spins apart from Svartalfheim Free Spins has the potential to trigger a Wild Lightning Feature. Land a symbol anywhere on reels 2, 3 and 4 to trigger this feature. When another Wild in the same position as the triggering wild, it will fil lthe reel for that spin.
Jotunheim Free Spins
Jotunheim Free Spins gives the player 15 Free Spins with a Wild Multiplier of 2x, 3x or 5x.
This mode is unlocked from the first time you trigger Free Spins
Vanaheim Free Spins
Vanaheim Free Spins gives the player 12 Free Spins with a Wild Multiplier of 2x, 4x or 6x.
This mode is unlocked when you trigger Free Spins 5 times.
Alfheim Free Spins
Alfheim Free Spins gives the player 9 Free Spins with a Wild Multiplier of 3x, 5x or 8x.
This mode is unlocked when you trigger Free Spins 10 times.
Nidavellir Free Spins
Nidavellir Free Spins gives the player 6 Free Spins with a Wild Multiplier of 5x, 8x or 12x.
This mode us unlocked when you trigger Free Spins 15 times.
Svartalfheim Free Spins
The Svartalfheim Free Spins are a little different to those that came before it.
In the Base Game, you'll see a meter that holds a Wildstorm charge. In order to charge this, you'll need to collect 20 Scatter pairs in the Base Game to unlock this feature the next time you trigger Free Spins.
Svartalfheim Free Spins are special in the sense that it can turn up to 5 reels Wild with the Wildstorm feature.
The win potential in this mode far exceeds the potential of those before it.
Stormcraft Gaming have the player central in their mind when it comes to the Svartalfheim Free Spins. Because of it's fierce volatility, there is the possibility that Svartalfheim Free Spins may return nothing. If this happens to be the case, then collected Wildstorm charges are reimbursed so that you may give it another go on your next bonus if you wish to do so!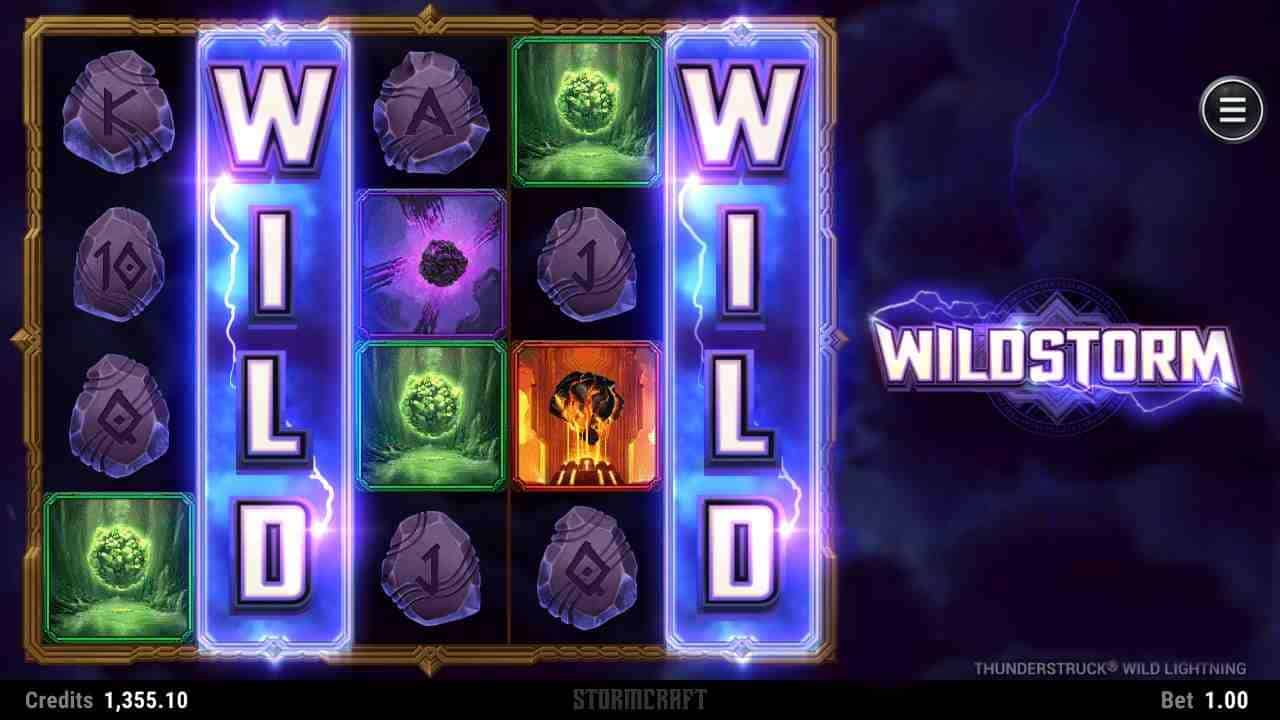 Thunderstruck Wild Lightning Slot: Our Verdict
Stormcraft Studios have done an absolutely amazing job in reviving the Thunderstruck series with Thunderstruck Wild Lightning. This slot has all the excitement that you can imagine, with Wild Lightning, a grandiose Wildstorm feature and a mega Jackpots so huge that you'd be welcomed into Valhalla with open arms if you struck it.
Stormcraft Studios have thought about every aspect of this slot, and they've fine tuned it in a meticulous fashion with a great design, selectable music and an immersive setting as you switch between realms. When you compare this slot to those that came before it, it's almost inconceivable to think that they're of the same family.
Stormcraft Studios have impressed before with titles like Fire Forge, and although Thunderstruck Wild Lightning has a fraction of the potential, it still stands tall as an incredibly well thought out slot with considerable ability. Microgaming seems to be on the money with some of their independent game studios, and we've a feeling that Stormcraft Studios will be ones to watch in the future and more games like this would be very well received by players.
Statistically, Thunderstruck Wild Lightning looks great with a win potential of up to 15,000x, an RTP of 96.10% and a hit frequency of 22.92%, meaning you can expect a hit of some sort in roughly 1 to every 4 or 5 spins.
If you enjoyed the last couple of Thunderstruck games, or if you've got a softspot for the compelling story of Norse Mythology, then Thunderstruck Wild Lightning is definitely one you should check out.