Fruity Slots Awards 2022
Mark Bowley
posted 11/10/2022
For the last couple of years we've hosted our annual Game of the Year awards where you cast your vote to decide on the Slot of the Year!
In 2021 it was an absolute clean sweep for Nolimit City who took an award in every single category. xWays Hoarders xSplit won Slot of the year and best production, and Nolimit City took provider of the year as well as another award for Mental as the most innovative slot.
Can they do it again this year? or is glory reserved for someone else in 2022?
Just like the year before it, 2022 has been a killer year for innovative new slots. There's been big new releases, big sequels and even some shockingly good slots from rising stars that weren't even on the radar in 2021.
In just a year we've seen slots with never before seen win potential, graphical marvels, banging soundtracks and even a few controversial instalments.
What is your game of the year? and which provider could do no wrong in 2022?
Cast your vote and carry your choice to the podium for a place in the spotlight.
How Does it Work?
Follow the link and simply choose your favourite provider, and then your favourite slot.
Note: Providers and Slots are split into different questions on SurveyMonkey. If you can't see your favourite, then scroll down for more options.
Pick one provider and one slot. If your favourite isn't there then scroll down for more options
When does Voting Start and Finish?
Voting opens on the 17th November 2022, and closes on the 28th of November.
After we've tallied all of the results, we'll publish the results on this page and in the Forum.
Let the Battle Begin…Again!
It's an exciting time of year for players, and it's exciting for the nominees too.
At Fruity Slots we like to get involved too, so we'll be running our Slot Battle and other video content based on the results of YOUR Votes!!
We'll announce the participants of the Slot Battles and any viewer-driven content like a viewers slot battle when the results are in.
Here's our nominees for this year: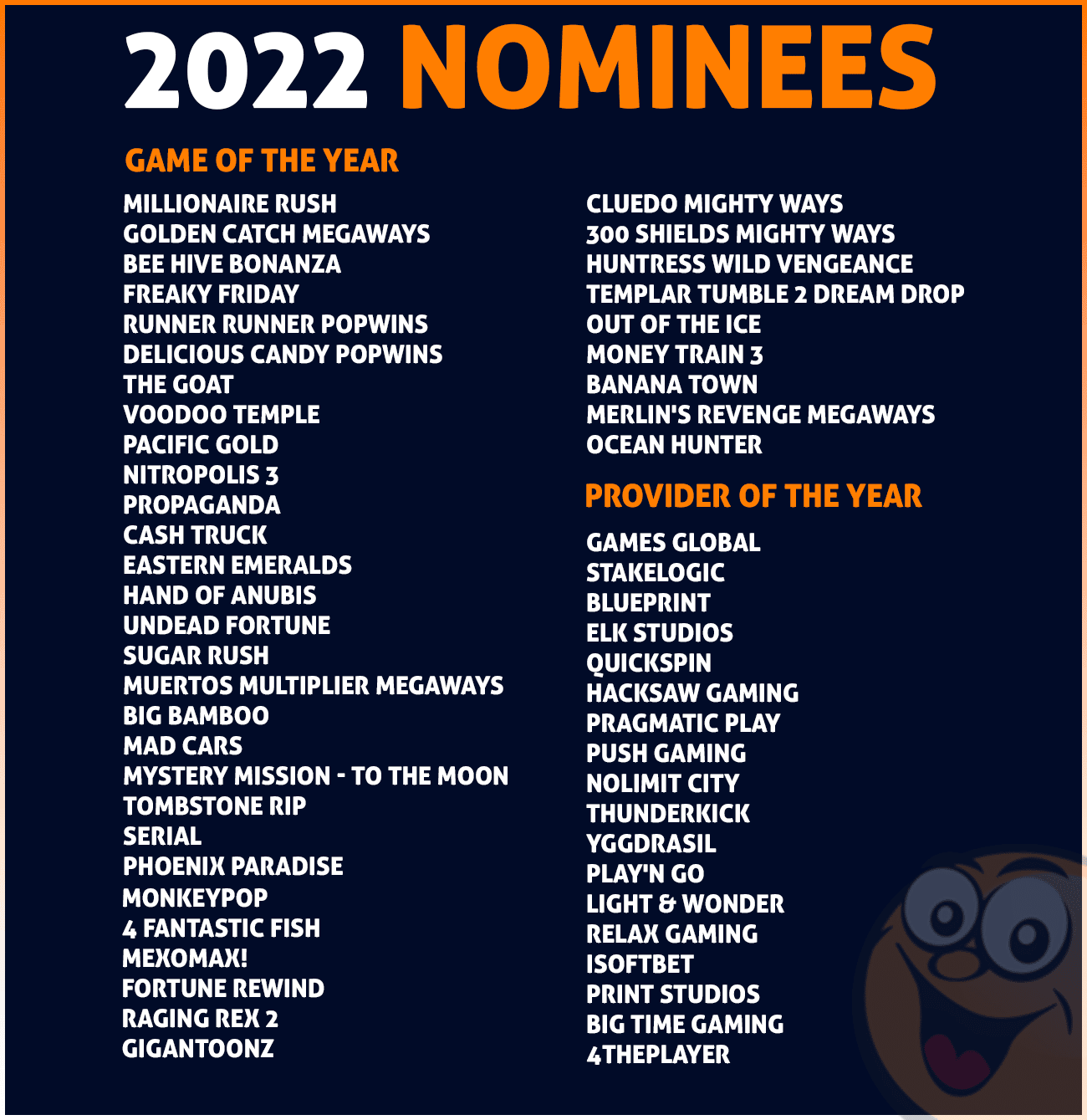 The Results Are In!
The people have decided and the results are in!
Well done to ELK Studios for picking up Provider of the Year and Relax Gaming for taking Slot of the Year with Money Train 3!