Big Wins
There are plenty of big win casino stories out there. At Fruityslots, we let you upload and see some of the biggest casino wins out there!
A penthouse in London, a Porsche, a new home for your parents, a spending spree – and more shopping when you take a trip abroad. You know you have heard similar fantasies…Hitting casino big wins and changing your life entirely.
For some, hitting the jackpot on a popular video slot is not a fantasy. Check out some of the slots big wins, submitted by players!
To help celebrate your wins, we created "Wins of Fame" on our website for that specific purpose. Sometimes we share our casino stream big wins. But in many cases, we want our fans to upload their biggest profits so that we can celebrate their wins too. Because who doesn't want to brag after hitting a big casino win?
[ Read More + ]
How to Upload your Biggest Casino Wins
What's the biggest amount you've ever won from an online slot? Well, you don't have to tell us. How about you upload a screenshot to share with over 10,000 more casino players? If that sounds good to you, follow this process.
Create an Account and Login If you're not already a Fruityslots member, create an account in three quick steps. Provide your email address. Choose a user name and set a strong password. Then validate your account and log into your account. You can take a tour of our website to get a feel or what Fruity Slots and casino streaming is all about. While at it, click the giveaways and bonus sections to find some great casino deals. Alternatively, head straight to the "Wins of Fame'' section to share your recent wins with us.
Submit your Win
When you click the "Wins of Fame" feature, you'll find an image of the "Win of the Month" on the right section. Just below the screenshot is an icon inviting you to submit your big win. Click it and follow the instructions. Precisely, give your screenshot or video a title. Mention the multiplier that helped magnify your wins. State the Top UK online casino where you won and the name of the game. Then upload your video or image and submit.
Check Frequently Paying Games
Before you leave the section, check around to discover which games payout the most often. Some slots appear a lot more frequently than others. Consider checking out these games. They might be your ticket to your next casino big wins. Since we play slots frequently and sometimes hit huge casino stream big wins, we get asked this question a lot…
Do We Have an Edge over the Average Casino Player?
The short answer is no. We don't have an advantage compared to you or other slots and card players at online casinos. The truth is we play more than the regular punter so therefore have more chance of getting that huge win! You probably don't need proof but just take a look at the biggest wins we've won:
Josh–£6600
Scotty—3100x
Jamie—7200x
By comparison, below is a list of the biggest win submitted by our "average player" fans.
Papa Lazarou—59,555x
Bongy-b—45,000x
Gingerballs26—42,000x
Sean1410—30,000x
Powergin1—26,650x
Costerd—26,288x
In other words, most casino players have the same chances of winning from slots and table games as we do. That said, the only advantage we have is that we have a community of thousands of people who share ideas with some.
Indeed, some of the best games we've played and streamed on YouTube and Twitch came from our fans. Some of them also share their best playing tips, which have, in many ways, helped tilt winning odds in our favour.
Submit your Casino Big Wins with Fruity Slots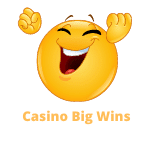 One of the beautiful things we love to hear from our fans is their stories about winning at the best online slots sites in the United Kingdom. Some people are admirably hopeful and could spend hours saying why they will win a jackpot someday.
It's good to have these sorts of dreams, preparing our minds for how to react if the scales of luck ever tilted in our favour significantly, but expectations should be tempered and responsible play should be forthright in players' minds.
If you hit a lucky win, then share your casino big wins with us as frequently as you can.
Inspire beginners with your small wins
Give hope to contemporary players with decent wins
Dazzle all of us with your enormous wins
You don't need to share your real name. We won't even ask for your address. Click "Submit your Big Win" and upload your wins privately. Then watch hundreds of people heart-react to your wins.
As we had mentioned, always check around to discover what games people are submitting the most.
In case you are wondering, there are no limits on how many videos and screenshots you can upload. Keep sharing your biggest wins both on our website and on social media sites. To have a positive impact on social media, encourage others to share their winning stories.
Big Win Slots
Fruity Slots review a number of games, and within each, we'll list statistics like RTP, and maximum win, among other things. Not all slots are made equal, so check out our reviews before you play to see if the slot you have in mind is right for you.